If you're a gamer you've probably found the best deals on games when buying digital copies. Additionally, services like Xbox Live Gold and PlayStation Plus guarantee you some free games that you can download every month. But with the current generation of games at 50GB or more, the 500GB hard drive in your Xbox One or PlayStation 4 starts filling up really quickly.
You're a little better off with a PlayStation 3 or Xbox 360, where games will typically be under the 10GB mark, but the hard drives on those consoles were also smaller, so it's still a problem. Since you can also put music and movies on the console, they fill up really quickly.
Fortunately, gamers can simply plug an external HDD into the console's USB port and use that space on the internal drive. One thing you need to remember is that hard drives need to be formatted in order to be used – this means that everything on the drive will be deleted before you can use them.
If there is any important data on the drive, make sure you save it before proceeding with any of the steps below. Formatting a drive is an irreversible step and can take hours depending on the size of the drive, so take any backups as needed, and then start the process only if you know you have the time.
Xbox 360
The Xbox 360 will work with up to 32GB of external storage in the FAT32 file system. For this reason, we would recommend using a USB thumb drive instead of an external hard drive with your Xbox 360. While 32GB doesn't sound like much, it will allow you to save at least three full games, as well as save their data, on a pen drive. If you're a fan of indie games, you'll probably be able to fit more in there.
One thing you will need to do is to make sure that the thumb drive you are using is on the FAT 32 file system – some guides suggest that you can go straight to step 7 and have the Xbox 360 do it for you Will format the drive, but we tried it with two different thumb drives and that wasn't always the case. So, you can try step 7 first, but if your thumb drive is not detected, then start with step 1.
1. Connect the thumb drive to your Windows PC, and go to my computer,
2. Right click on the icon of the drive and click on Property, Under the name of the drive, it should state the file type. If it is FAT32, you can skip to step 7. Otherwise, you need to format the drive. This will delete everything on the drive, so back up any data you keep.
3. The fastest way to convert it to FAT32 is to use Command Prompt. First of all, press Windows Key + R to show the Run dialog box.

4. Type CMDand click Ok,
5. In the window that pops up, type the following text, excluding the quotation marks: "format /FS:FAT32 X:". You need to change X: to the name of the drive.
You can see the drive name in the My Computer window – don't accidentally type the wrong letter because once you confirm this command, the process is not reversible.
6. When you run the program you are prompted to press Enter. Just to be safe, double-check the drive name you entered in the command before pressing the Enter key. This completes the process, and you can check the file system of the drive as described in Step 2 to confirm.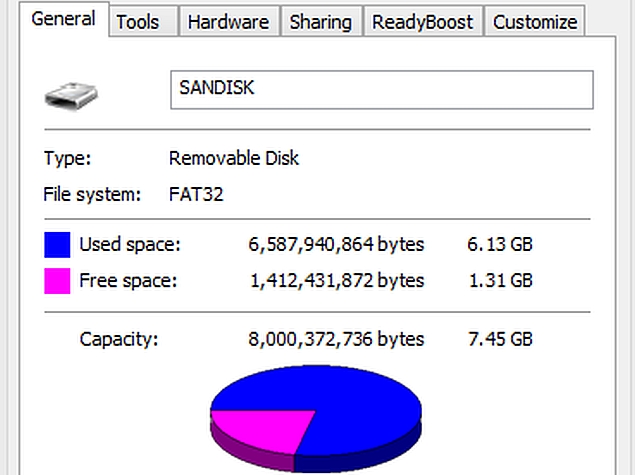 7. To use the thumb drive, you can now eject it from your computer, and connect it to the Xbox 360.
8. Go Here System Settings > Memory > USB Storage > Configure Now, This process took a minute, and after that, we can save games, demos, games in this drive.
You can also follow steps 1-6 to format the external HDD to FAT32, which can then be used with your Xbox 360. You can save movies and music to HDD and play them automatically from your Xbox 360, so it's useful if you're using the console as a music player. However, you won't be able to use more than 32GB to save games.
Playstation 3
Unlike the Xbox 360, you can't save PS3 games to an external drive, so here, we'd all suggest using an external HDD to hold music, movies, and TV shows, while the games remain on the internal HDD. on your console.
The PS3 also only recognizes FAT32 drives, so you'll need to follow steps 1-6 above first. After that, you have to do one more thing to use it with your console.
1. After converting the drive to FAT32, go back my computer and open the drive.
2. Create the following folder: music, Photo, Play And Video, Now you can fill all the folders (except games) with media content you want to access on your PS3.
While you cannot play games from external HDD, you can back up your downloaded games to HDD; This means that if you delete a game, you don't need to waste data to download it again. To back up a game:
1. After you have connected the HDD to the PS3, go to Settings > System Settings > Backup Utility > Backup,
2. Select confirm and then choose USB Drive, and your entire PS3 will be backed up to HDD. This process will take some time. Once it's done, you still can't play games from the external HDD, but if you need to make up space, you can delete old games from the PS3 and move them back in later.
3. To recover games from backup, start PS3, then go to Game > Saved Data Utility
4. Select External HDD. Scroll through the list to find the game you want to import. Press the triangle button on your controller, and then select copy, This will copy the backup to the PS3 and you can use it again.
Xbox one
New consoles are a lot like computers, and using an external hard drive is also relatively simple. With the Xbox One, there's only one caveat – the HDD has to support USB 3.0, and must be at least 256GB in size. If you're looking at an external HDD to store your media and not your games, there's no minimum storage limit or even USB 3.0 requirement.
1. To use it, simply connect the HDD to your Xbox One. You will be asked if you want to format the HDD.
2. You must select Yes to use HDD. This process is automatic and will take some time. That's it – once you've done that, it will automatically be used to save games and other content.
Playstation 4
PS4 does not allow you to save games to an external HDD. You can simply plug an external HDD into the PS4 and use it to store all of your movies and TV shows. You can copy video from PS4 to HDD, so you can save all your gameplay footage without worrying about filling up the console's storage. However, you cannot save games to an external drive with the PS4. Since the PS4 supports USB 3.0, you'll obviously get much faster data transfer speeds if you use an external HDD with USB 3.0 – but it's also compatible with older HDDs.
We hope this guide has helped you with your lack of space on your console. If you have any console tips and tricks to share with our other readers, do let us know via the comments.