Valve's PC game distribution platform Steam has been in the news lately for a variety of reasons, such as allowing (and removing) paid mods from Skyrim, or for adding a number of features such as in-game frame rate counters. One of the many useful features of Steam is Family Sharing. As the name suggests, with this feature you can share your library of Steam games with friends and family.
To do this, you'll need access to the computer your friends and/or family play on, and you'll need to share your Steam account credentials (username and password) on their machine. From there, it's a relatively straightforward process.
enable steam guard

On your computer, go to the Steam Settings menu. click on account, to select Manage My Account with Steam Guard Security,

authorize another computer

On your friend's (or family member's) PC, log in with your Steam account. Go to Settings, Click family, to select Authorize this computer.

start sharing

On the same PC, after authorizing it, log out of your Steam account. Allow your friend/family member to log in to your account now. Now they can download and install games from your Steam library.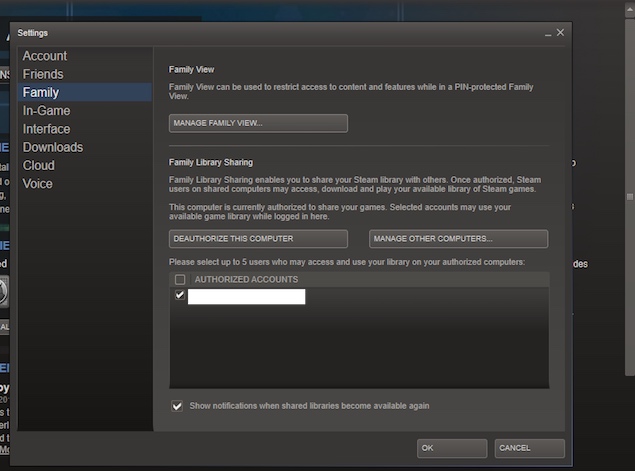 please pay attention:
You can authorize up to 5 accounts and 10 computers to access your Steam gaming library.

You cannot play any game together. If someone is using a game from your library, you cannot play at the same time. This means that if someone is playing Counter-Strike from your library, you can't play Team Fortress 2 at the same time.

You can't use Family Sharing to play games normally unavailable in your region.