Facebook recently expanded its 'Like' icon to a full six-pack of 'reaction' emoji characters, showing Like, Love, Laughing, Wow, Sad and Angry emotions for comments and status. This eliminated the odd situations where people 'liked' situations with a sad message and gave them the flexibility to react in a more appropriate way.
However, thanks to a developer named Rodney Folz, there's now a more fun way to use Facebook's emoji reactions because you can now add them to Donald Trump faces, Pokémon characters, Canadian Prime Minister Justin Trudeau, or other icons of your own. Can swap with. Folz is calling it Reaction Packs.
Here is how you can now replace those regular inbuilt reaction emoji characters on Facebook with other characters on Chrome and Firefox desktop browser versions.
Open a web browser (Google Chrome or Mozilla Firefox) on your computer.

Go to the Reaction Packs website and choose The pack you want to see on Facebook.

Open your Facebook account in the same browser and refresh. Once done, you'll see new reaction packs on Facebook instead of those original reaction emoji faces.
,See also: How to use Facebook's new Reactions)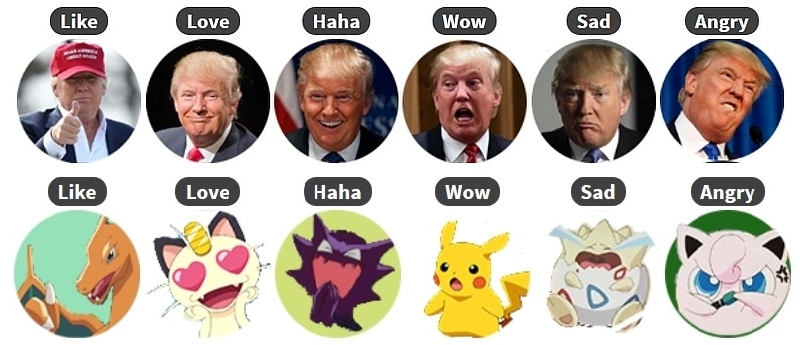 To make it more customizable, you can also upload your own response pack by following the guidelines given in the website. Unfortunately, only you or others who have installed the plugin can see the new emoji characters. People who haven't installed the plugin will see regular emoji reactions on Facebook (on both the desktop and mobile apps). Plugins are also not available on any mobile app version.
It really is that easy. what will you go for? Pokemon characters, Donald Trump's face, or something else, maybe Game of Thrones characters? Let us know through comment.