Xiaomi on Tuesday announced that it has made the MIUI 7 global stable build available for a number of devices. The new version of Xiaomi's mobile OS is available for download from the company's official forum, and is also being rolled out as an OTA update.
Stable MIUI 7 builds are available for Xiaomi Mi 3, Xiaomi Mi 4, Xiaomi Mi Note, Xiaomi Redmi 1S, Xiaomi Redmi 2, Xiaomi Redmi 2 Prime, Xiaomi Redmi Note and Xiaomi Mi Pad. There is no information on when the Xiaomi Mi 4i will get the update.
Based on Android Lollipop, MIUI 7 comes with several features such as four built-in themes, a daily lock screen that changes its wallpaper everyday, and a new mode that gives the user the option to lock the apps They do not want to reach their children.
As for improvements, the company claims that MIUI 7 offers up to 30 percent better response time than MIUI 6. Users should also go light on the battery as some changes have been made to how the operating system handles background apps.
If you have never flashed your device – manually installed ROM on your handset – you should wait for the OTA update to arrive for your phone. user can check updater app On their MIUI device to see if an OTA update has arrived for them. If so, users should press Update, and then press Reboot Now after the download is complete to finish the installation.
Alternatively, you can follow the instructions below to install the latest flavor of Xiaomi's tech on Android for your handset.
Before updating a device you need to know that there are two builds available for your device: Fastboot and Recovery. Updating your handset using the recovery build is easy, and moreover, it does not erase your existing files and settings. Fastboot requires you to download Mi PC Suite on your computer, and using this method will erase the files and settings on your device.
Users running stable MIUI 5 or MIUI 6 stable build are recommended to wait for OTA update, or flash full ROM in recovery or using Mi PC Suite. If users are running MIUI 7 China Developer Build, or MIUI 7 Global Beta Build, they are recommended to flash the full ROM after wiping all user data, as they will not receive the update over-the-air .
If you want to erase all your settings – better only if your device is having some issues – you can follow the instructions at the bottom of recovery mode.
Below we have explained how you can update to MIUI 7 using Recovery ROM, Mi PC Suite and Fastboot ROM.
How to update using recovery mode:
1) Back up all your data. Save all your photos, contacts, downloaded files to your computer or save it to any of your favorite cloud storage service like Dropbox, OneDrive, Google Drive.
,See also: How To Back Up Your Android Smartphone)
2) Download the corresponding MIUI 7 build for your smartphone.
3) Rename recovery rom you downloaded here update.zip on your computer.
4) Connect your smartphone to the laptop using a data cable, and copy the downloaded ROM file to the root directory of your device's internal storage. Make sure you haven't put the file in any other folder.
5) Now you need to enter recovery mode to start the installation process. There are two ways to put your phone in recovery mode:
Method 1: Launch updater app On your device, click , icon in the upper-right corner, and select reboot to recovery mode to enter.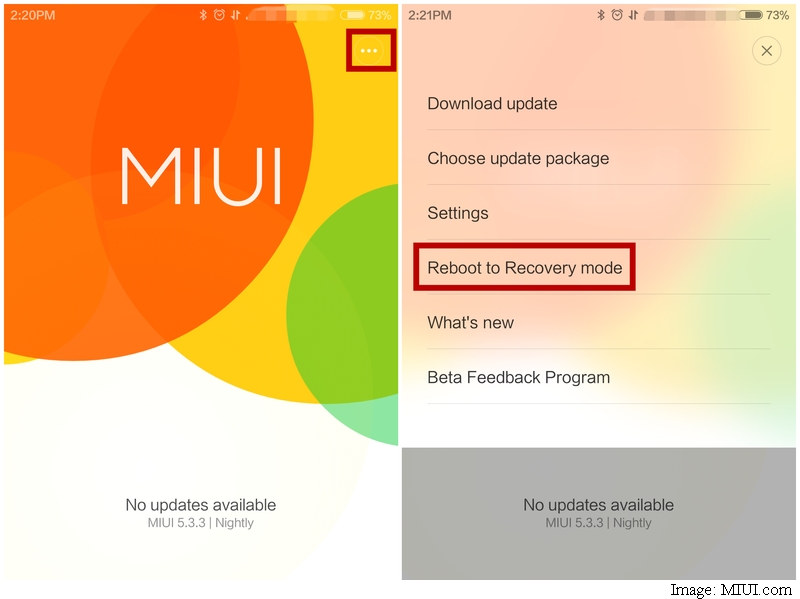 Method 2: You can also turn off your device and then hold both Volume + button and Power button at the same time to enter Recovery Mode.
6) Once in recovery mode, you can use Volume +/- to select up/down, and Power button to confirm.
7) After entering recovery mode, choose your favorite Language: Hindichoose more Install update.zip in System One and confirm. Doing so will start the MIUI 7 installation on your device. Wait for the update to complete, select reboot into system oneAnd then your device should boot into MIUI 7 version.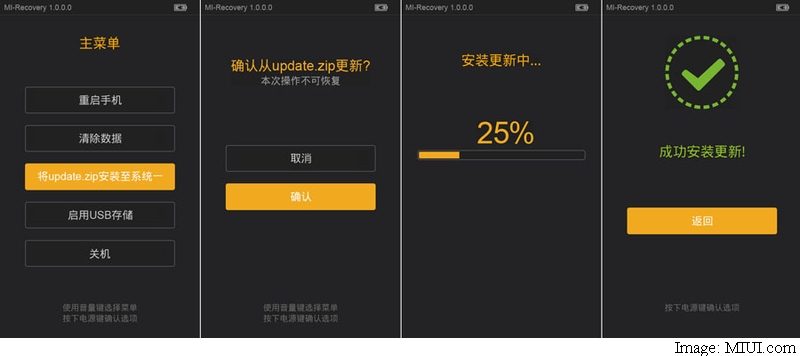 How to Update Using Mi PC Suite
This method is only for users running the stable build of MIUI 5 or MIUI 6.
1) First, download Mi PC Suite and install it on your computer.
2) Turn off your device, press the Power button and Volume Down button at the same time to enter Fastboot Mode.
3) Connect your device to the computer with a USB cable.
4) open Mi PC Suite And let it find your device. then choose Updates, If an update is available, click update Now,
How to Update Using Fastboot Mode:
Installing the Fastboot ROM is a bit more complicated, and you can follow the instructions below.
1) Download MIUI ROM Flashing Tool from Xiaomi website,
2) Download Fastboot ROM for your device from the link given below.
3) Switch off your Xiaomi smartphone. To enter Fastboot Mode press Volume Up and Power button at the same time. Now connect your device to Windows PC or laptop via Micro-USB cable.
4) Double-click on the Fastboot ROM file you downloaded on your PC in Step 2 to decompress it. Open the folder where this decompressed ROM is saved and copy the folder path.
5) Now decompress the flashing tool you downloaded in step 1. Then double-click to install it. then open MiFlash.exe And in its address bar, paste the folder path you copied in the previous step. click now refresh button and MiFlash will recognize your device.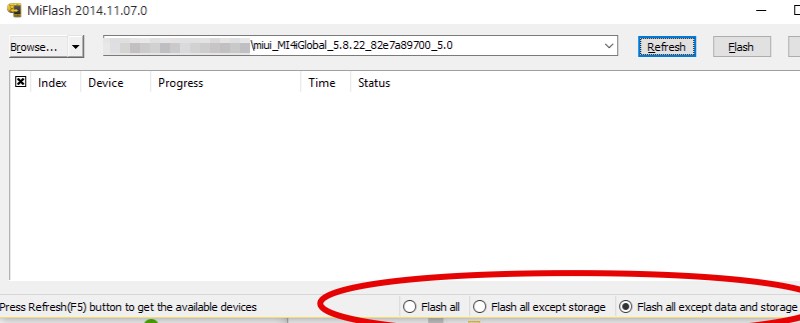 6) You can choose three options from below: Flash will flash all all files, and erase all user data and all files in internal storage. Flash will flash all updated files except storage, wiping user data, but not deleting files in internal storage. All Flash except data and storage will only flash updated files, and will not erase user data and files in internal storage. To keep your user data safe, make sure you select all Flash except Data and Storage.
7) Then click on the Flash button on the top right to flash the ROM on your Xiaomi smartphone.
8) Wait for the progress bar to fill up. You will then see a message next to it that reads: "Operation Completed Successfully". Your device will reboot automatically and MIUI 7 will be installed.