Booking train tickets on IRCTC is a sacrament. It is one of the major e-commerce destinations in India, and it's quite strange, once you actually dig into all the pages and know the names of the servers. Despite the fact that you're stepping into the Internet time machine dialed in in 2000, the service works, and there's no escaping it when you need to book a train ticket.
The first thing you need to know are the rules, and they are vast and numerous. Do you know the tatkal ticket rules, all classes available, sleeper and seater difference, how to find the best train, and what are your chances of booking a ticket? Good. Here is a quick refresher course that will significantly increase your chances of having a 'good journey' booking train tickets or other related services using IRCTC.
1) Plan your trip ahead of time
This one is very basic, but you can greatly improve your chances of getting a reserved ticket by booking at the earliest available time slot. Train tickets are usually available 120 days in advance, and there is a website called ticket date Based on the type of train you are taking, you can calculate the earliest booking window. Some trains have 10 and 30 days advance booking, and then there are Tatkal tickets, which cost much more, but open a day before the date of travel.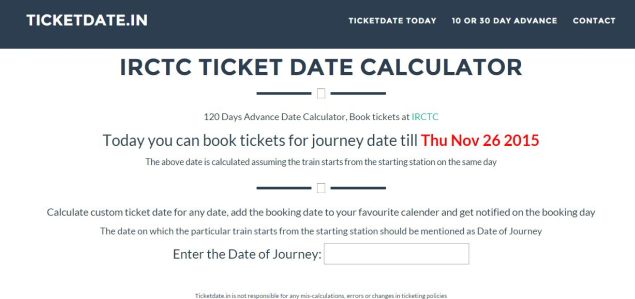 2) Still on the waiting list?
Calculate odds with Trainman This really cool third-party tool can predict the chances of a waitlisted train ticket based on historical booking data for that route. trainman Keeps track of the number of days between the waiting list tickets, both the starting and ending status, and expresses it as a percentage. You can also enter your PNR number to calculate the odds.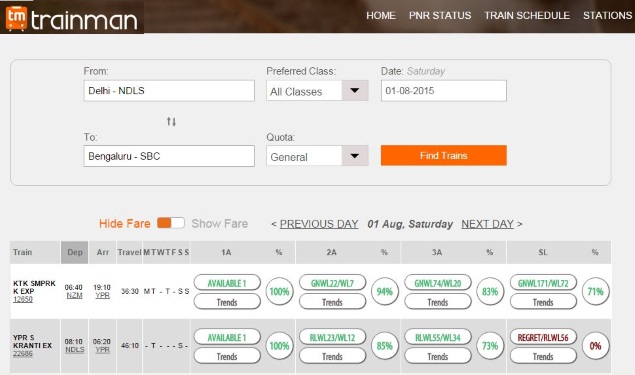 Tap on the percentage sign in the list of trains listed for the route, and Trainman calculates the odds, those expressed in green are more likely to be confirmed, while those marked red are more likely to be on the wait-list. . Trainman also offers a lot of interesting information about the fastest trains available in a particular route, and ideally your destination should be there before you start booking.
3) Know your station codes, schedules and routes
The process of booking tickets requires asking many questions, most of your queries can be answered here Indianrail.gov.in, which gives real-time data on seat availability, fares, schedules and routes. The website may not be beautiful to look at but will help you in arriving at a decision. Protip: You don't want to take the mail train unless you have time to kill.
4) Book Tatkal tickets using this autofill tool
Booking tickets for a family on Tatkal? magic autofill button, Developed by Amit Agarwal, the chances of you getting a confirmed ticket will be greatly increased when the gate opens at 10:00 am. It lets you pre-enter passenger booking details and fill them in on the browser at the tap of a button.
5) Book tickets on Cash on Delivery through BookMyTrain
Don't have any online payment option? Available on all major smartphone platforms, the BookMyTrain app gives you the option of cash on delivery in over 200 cities in India. Check out our review of the app for more details.
6) On the waiting list? Convert your train ticket to AA flight ticket
IRCTC has tied up with low cost flight operators that lets you convert your waitlisted ticket into an airline ticket, which is available on the day of train journey or the next day. According to an IRCTC spokesperson, the service will be 30-40 per cent cheaper than regular flights, but the scheme is applicable only on tickets booked at least three days prior to the date of travel.
7) Use RailYatri to know if your train is on time
Want to make sure you're not spending hours on the platform because of delays? For train watchers, RailYatri has an excellent Live Train Status feature that lets you track where the train is in real time. The website has some other amazing map based features that tell you where you can go Find and lose cellular connectivity in your train route And depending on which trains to avoid Average delay time at a particular station,
8) Didn't pack the food? did it reach you
You must have a cast iron stomach to be able to handle pantry food; for those with a more cultured flavor or a delicate build, there is travel food, which has a selection of breakfast, lunch and dinner on over 2000 trains covering all the main railway stations in India. The service runs on cash on delivery and can be booked through the app or phone.
9) Keep a map handy
Sometimes, Maps can be the best app of all, especially when you are in places with limited connectivity. For travelers with no definite plan, this railway map A useful and handy reference point that will help you locate the nearest railway station, no matter where you are.